Cydia download with Chimera jailbreak for iOS 12.1.2
---
Making all work true, Electra team has released the new iOS 12-centric jailbreak for iOS 12.0-iOS 12.1.2 named Chimera Jailbreak. It gives support for A12(X) and Sileo following semi-untethered tool techniques. Saying hello to the new jailbreak tool, here we are guiding you through the complete manuals.
About Chimera Jailbreak for iOS 12 Jailbreak
Just like iOS 11-centric Electra Jailbreak tool update, Chimera comes supporting both iOS and tvOS devices. And with no change, this is another Semi-untethered jailbreak that needs to be installed through Cydia impactor. The new Jailbreak tool comes with the support of Sileo package manager as an alternative to Cydia. And also it is supported with the substitute instead of the Cydia Substrate as of this moment. Sileo version 1.0 is the official released version at the moment which is no longer a beta. And thankfully, Chimera new jailbreak is now supported the package. You can have the tool for totally free and could manage in semi-untethered flow.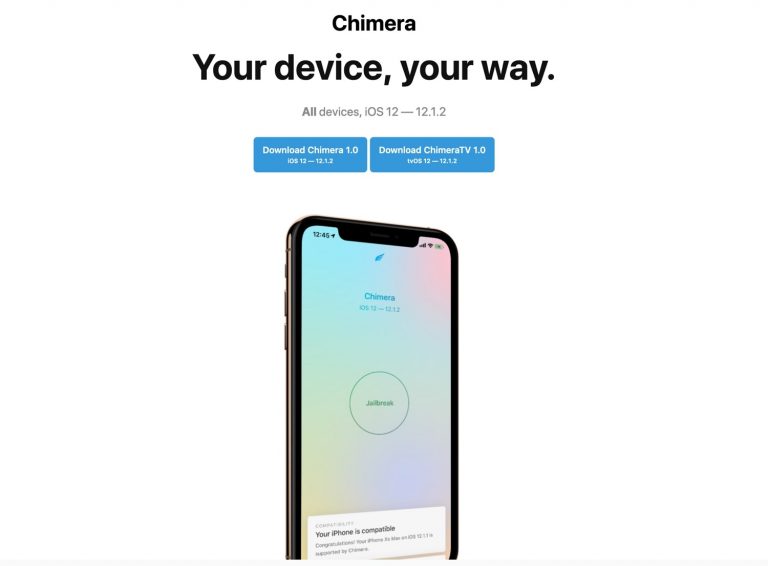 How to download chimera and how to jailbreak iOS 12.1.2 with Chimera tool?
As the first official iOS 12 jailbreak with the complete A12(X) devices, Chimera Jailbreak is very significant. Although it is not yet with Cydia Download or Cydia Substrate it uses Sileo and substitute for tweak injection. And here we are guiding you through step guide to Chimera Download and execution. The tool supports all the devices supports iOS 12-iOS 12.1.2.
Step 1: Download Chimera jailbreak free from the official website. www.chimera.sh or click above buttons
Step 2: Download Cydia impactor on Windows or Mac and launch
Step 3: Use a proper cable and connect the device to the PC
(If Cydia impactor does not detect the device connected, "Trust" the computer through iTunes. It will show a pop up)
Step 4: Drag and drop Chimera IPA into the Cydia impactor interface
Step 5: When required, enter Apple ID and orderly the Password
Step 6: Let Cydia impactor side-load Chimera Jailbreak into your iPhone
Step 7: Once the installation is completed, go to Setting > General > Profile and Device Management and tap on the Apple ID to continue with "Trusting"
Step 8: Enable Airplane mode and temporarily disable Passcode / Touch ID/ Face ID and also Siri. Then reboot to successfully run iOS jailbreaking
Step 9: Launch Chimera jailbreak from the Home screen
Step 10: Tap on "Jailbreak" in the middle of the screen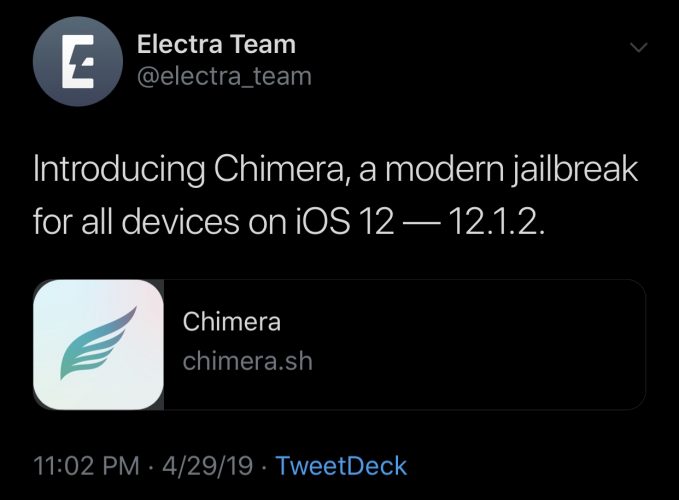 ---
These are only what you need doing. Once you are jailbroken, the app will notify it on the screen. And then Sileo will appear on the screen along with the Chimera Jailbreak app. Will you try this new Chimera tool or going to wait until Unc0ver updates the complete update with A12(X) device support and Cydia? Let us know your comments.
---
---
Credits for Chimera jailbreak Tool
Chimera Jailbreak is a complete new jailbreak by CoolStar-led Electra team with complete support for iOS 12.0 to iOS 12.1.2 Jailbreak. So give all tool credits to the team and wait for more updates.
---
CydiaMate for download Cydia iOS 12.2
Finally, this is the solution. CydiaMate supports for all the un-jailbroken iOS versions and it allows iOS 12.2 Cydia installer for download Cydia iOS 12.2. So this is the most available solution for your iPhone, iPad, and iPod touch devices to get unlimited facilities and those who waiting this Cydia download can visit CydiaMate official website for more details. When you visit there you can see all the details on Cydia, Cydia download and jailbreak iOS versions. By the way here you can see Cydia download button. So then tap on that button to start the Cydia download process and within a few seconds, users can easily download Cydia with online semi jailbreak.
---
---