Emus4U App Download
---
Are you looking for powerful apps and tweaks but cannot jailbreak? No need to mess as we now have the best third-party app installer as Emus4U App. You can find hundreds of useful apps, games and a lot of tweaks. Emus4U is one of the top app installers you can have for free. So get it today.

How to Download Emus4U?
You can Download Emus4U easily and completely free. For that, you only need a proper WiFi connection on your iPhone or iPad.
Hit the Download button and Download Emus4U App
Run the installation and get the profile
Wait a few seconds and let Settings to open to the Profiles page where you should click on "Install Profile"
Put the passcode and let Safari browser to open
Hit Install and run installation when the confirmation box appears
Wait for Settings to load and click "Install"
Click Next > Done and wait for a little
Soon once the installation is over you will see the app icon on Home
Launch Emus4U with a hit on the app icon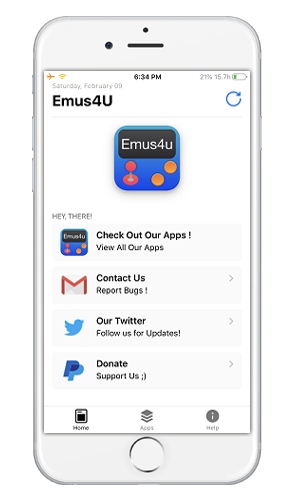 Note: Emus4U is a very supporting app with many third-party app options. It will easily get on the device. But in case if you see a grey icon issue or white screen, or Emus4u app does not work at all as errors, you may try an alternative for better results.
How to Use Emus4U App?
Emus4U App is easy to do. Here we go.
Tap on Emus4U App icon to launch
Tap the required category
You can browse or search for what you are looking for
Tap on the results and follow instructions on the screen
You will then find apps getting installed to easily use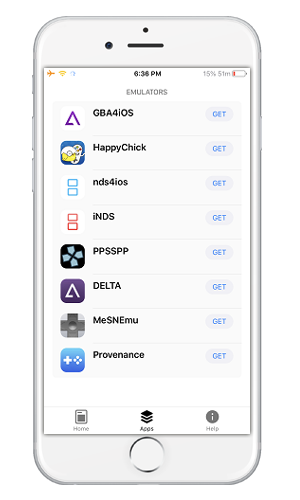 Emus4U App Features
You can have amazing features with Emus4U. So here you are about them in brief.
iOS Apps - completely free iPhone and iPad supported apps, games and more downloads
Exclusive Apps - some Cydia tweaks including games emulators, screen recorders and more
Tweaks - a lot of tweaks to improve all the device experience
---
Common Errors on Emus4U App:
With different work conditions, you may encounter a number of issues with Emus4U. So here are some commonly reported issues with Emus4U.
White/Blank Screen Error:
The white screen is a very commonly reported issue with Emus4U and it is easily fixable. So here are some easy steps.
Launch Settings app on iOS
Tap Safari and simply clear website data
Now close settings and you will find the screen back in normal
---
App Revoke Issue:
Apple does not support content beyond the official frame. So they used to revoke the app certificate in the usual way. Every time it happens, you need to reinstall the apps. But you can easily prevent the trouble by having an anti-revoke app.
Go to iOS settings
Follow General > Profiles and Device Management
Select the developer name with the respective app
Continue with "trust" and go to the app with no more errors
---
How to delete the Emus4U App?

Some of the users may look forward to how to get rid of the Emus4U app. So here are a few steps to go through and remove it right away.
Simply launch the Settings app on your iPhone or iPad
Select General > Profiles & Device Management options respectively
And then select the respective profile of Emus4U app
Once you select Delete option, the app will permanently remove
---
Frequently asked questions
How to fix the untrusted developer error?
When users apply unofficial content, this is the common error that they have to face.
First of all, launch the Settings app of the devices
Turn to General > Profiles and Device Management
Select the profile of the installer from the list and tap Trust to continue
Close the Settings app and check if the error has been resolved
Will Emus4U void my warranty?
The app Emus4U does not ask the user for special methods or else permission to break the security barrier. But some of the Cydia tweaks will change the device performance while cause to void the warranty of your device. Since you can resolve it too by simply delete the certain bothersome tweak, do not worry about the warranty. However, Emus4U will not put you in warranty void troubles.
Is Emus4U App safe to use?
There is no doubt about the safety of the Emus4U app. This is one of the applications that have been gone through a couple of serious tests. There is no virus, malware or anything that harm your device. If something goes wrong and the app will complain, it will fix right away. It simply takes little space of the device but will never bother you by interfering with your system. Because of the SSL encryption that the app uses, your data and the entire device will stay safe. Though Apple can void the warranty of those devices that installed Cydia, you do not have to bother when you are with the Emus4U app.
Can I ask for a specific game or app?
Although we cannot guarantee to have a certain app or game, you can request through Twitter and hopefully remain for. But remember that this does not mean we will be able to apply all we desire through the Emus4U app.