Cydia Download for iOS 10.1.1- 10.1
iOS 10.1 Released- Cydia Download and Install for iOS 10.1
---
Apple release the first major update to iOS 10 on 24th of October. And now iOS 10.1 is available to download for all iOS 10 compatible devices via OTA and manually through iTunes. The update includes user-facing changes including the new Portrait Mode feature for iPhone 7 dual-lens camera which creates a blurred effect to the background while sharping the subject.
Since the day iOS 10 wrapped off at WWDC iOS 10 jailbreak and Cydia install started actively question. And as a result we can now find number of successful Cydia download attempts on iOS 10/iOS 10.0.1/iOS 10.0.2/iOS 10.0.3/iOS 10.1 with contribution of couple of reputed iOS hackers and well known Pangu jailbreak team. But as of this writing we find no official confirmations on a tool release. Meaning you will have wait on upgraded iOS 10 to install Cydia with a confirmed jailbreak release. And we make our word now to share all genuine download links once we find the official jailbreak and opportunity to Cydia Download for iOS 10.1-iOS 10.
Update: Apple has stopped signing iOS 9.3.5 / iOS 10.0.1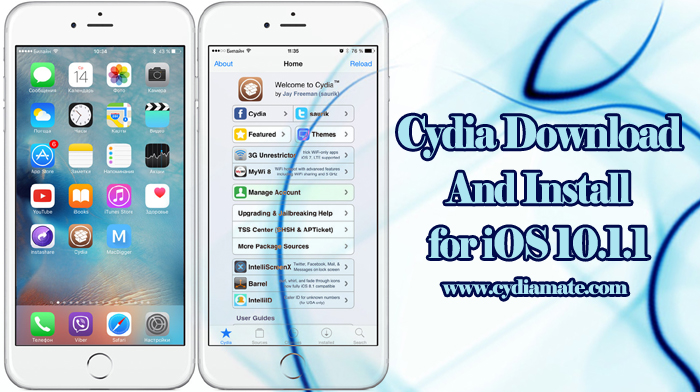 ---
Cydia Download App
---
iOS 10.1.1 cydia download and install
Apple has released iOS 10.1.1 minor update on 31st Monday to all iPhone/iPad/iPod Touch Models that compatible with iOS 10. It has come about a week after major release iOS 10.1 which houses Portrait Mode for iPhone 7 Plus and more changes and fixes to iOS. But in feature wise iOS 10.1.1 does not come with outfacing changes and comes prioritizing the issue where Health Data could not be viewed for some users. In that way iOS 10.1.1 is released aiming fixes in iOS 10.
As the update is now available for iPhone 5 and later, iPad 2 and later and also iPod Touch 6 Generation, those who faced Health data viewing problem can now download iOS 10.1.1 via OTA or manually through iTunes.If you got the OTA notification head Settings > General > Software Update for an easier iOS upgrade. But if you wish to make changes with upcoming iOS 10.1.1 jailbreak updates, you are recommended to upgrade via iTunes which make no clash with jailbreak apps.The update iOS 10.1.1 is completely free to download with weights around 70 MB and recorded a smooth installation up to now.
The update came with no beta or any pre notice. And it clearly indicates that iOS 10.1.1 is a minor scale update only came focusing iOS stable run. So just like in previous iOS 10 versions still there is no public solution available to jailbreak iOS 10.1.1 too. In that way Pangu 9.3.3 which currently work for iOS 9.2-iOS 9.3.3 is not operational for iOS 10.1.1. Cydia Download. If you are not happy with iOS 10.1.1 install on iPhone/iPad/iPod Touch, you can downgrade iOS 10.1.1 to iOS 10 previous versions. But remember you have no downgrade rights to iOS 9 by now which has closed recently with Apple's movement.
iOS 10.1 Included Changes/Fixes
Camera and Photos
Brings the new Portrait Mode for iPhone 7 Plus camera
Feature to save user names in the Photos app in iCloud backups
Brings fixes tothe issue with opening the Camera app that lead a blurred or flashing screen
Addresses the issue caused photos crash when turning on iCloud Photo Library
Better-quality display in the grid viewof Photos app
Messages
And option added to repeat bubble and full screen effects
Comes fixing the issue that made contacts names mistakenly appear in messages
Ability to use Messages effects even when Reduce Motion enabled
Fixes the issue with report junk option that showing unknown senders
Fixes the issue that opened Messages to a White blank screen
Addresses the problem with the audio in thevideos captured and sent via the message app
Maps
Transit direction support for Japan users including major train, subway, ferryboat, and national bus route, together with local bus systems
informationprioritizing Tokyo, Osaka, and Nagoya
Sign-based transit navigation together connecting large transit stations
Feature that support Transit fare comparison in cases user views alternative transit directions
Other improvements and fixes in iOS 10.1
Upgraded Bluetooth connectivity specially when pairing third party accessories
To wake up the device with advancedAirPlay Mirroring
Comes fixing the trouble with playback for iTunes purchased content
Fixes the issue with FaceTime HD Camera on iPhone 7 and iPhone 7 Plus in displaying a live screening
Performance upgrade in sharing websites via Safari to Messages
Fixes the issue in Safari web previews
Addresses the problem that made certain Mail messages with small text
Fixes the issue that made mistakes in HTML email
Solves the issue in search field of Mail app
Addresses the issue with Today View Widgets updating
Solves the failures with Weather widget
Fixes the issue in iPhone 7 with Home Button click settings
Addresses the problem with spam alert extensions
Resolves an issue that could prevent alarm sounds from going off
Addresses the issue caused problems when restoring from iCloud Backup
Cydia Download and Install Approacheson iOS 10/iOS 10.0.1/iOS 10.0.2/iOS 10.1
Developer/iOS Hacker iH8snow Cydia Download demo on iOS 10 beta 1
Chinese jailbreak developing team Pangu at MOSEC 2016
Luca Todesco through video dubbed "YaluX" signifying Cydia iOS 10 when iOS 10 at the final developer beta
Luca Todesco through a descriptive video screening Cydia substrate support for iOS 10
For the final at the moment developer Luca shows Cydia version 1.1.26 on iOS 10 proving Cydia iPhone 7
iOS Hacker iH8snow on iOS 10.1 Jailbreak
Steven De Franco, better known for iH8snow is a Canadian developer and a legend in jailbreak chapters. As to him iOS 10 Cydia Download possibilities are found when iOS 10 at the very first stage of betas. But he still not reveal anything about the exploits, offering the development share over the reputed jailbreak developing teams. In that way teams like Pangu, PP jailbreak and TaiG are now in the challenge of building a new jailbreak tool. But still we find no solution showing Cydia Download for iOS 10.1.
Luca Todesco on iOS 10.1 Jailbreak and Cydia Install
Todesco often appears in jailbreak chapter with powerful demonstrations. And in iOS 10 he has already proven Cydia install possibilities on iOS 10-iOS 10.1 with three powerful verifies. But just like jailbreak legend iH8snow Todesco too will remain silent when comes to the tool development. In that way developing teams are now heartened for the next jailbreak release resulting a fine Cydia iOS 10.1-iOS 10.
Pangu Jailbreak on iOS 10.1 with Cydia Download
iOS 10/iOS 10.1 jailbreak would be a hard operation for team Pangu with Apple constant updates. But if Pangu is with the right technology in hand iOS 10.1 release is a fine turning point to make iOS 10-iOS 10.1 jailbreak public. In that way Pangu 10.1 would be soon available giving Cydia Download rights for iOS 10.1 and for all moved iOS 10 with access to thousands of useful Cydia apps and tweaks.
Thanks to constant effort of Pangu, those who are on iOS 9.2-iOS 9.3.3 can jailbreak your iPhone/iPad/iPod Touch with updated Pangu 9.3.3 download. It works across 64-bit device range with semi-untethered jailbreak guidelines resulting a complete Cydia Download for iOS 9.3.3. So that, prevent upgrading if you are on iOS 9.2-iOS 9.3.3 and willing to keep jailbreak rights with you. If you upgrade iOS 10.1 you will be stuck with no Cydia until iOS 10.1 jailbreak confirms by Pangu/TaiG or any other. Stay with us to get all genuine download links once the tool is officially confirmed.
Watch iOS 10 jailbreak and Cydia download for iPhone with Pangu demo video.
PP Jailbreak on iOS 10.1 with Cydia Download
With a fine combination, team PP jailbreak and Pangu worked for iOS 9.3.3 jailbreak. But then they were quite silent in the chapters while Pangu completely rule iOS 10 from the betas. In that way iOS 10.1 jailbreak is a big chance if PP jailbreak willing to step back with a working tool. However we still find nothing announced from PP jailbreak side in related to iOS 10.1 Cydia Download. But we could keep hope on a new PP jailbreak for iOS 10.1/iOS 10 in the way the team willing to work on exploits.
Taig jailbreak on iOS 10.1 with Cydia Download
Team TaiG holds credits for 8.4 jailbreak. But then they were not seen in the chapters while Apple keep constant updates. As the closest rival for team Pangu, TaiG could come with a challenging piece of work. But still the chance for the confirmations are extremely slim as team TaiG has not revealed anything confirming iOS 10/iOS 10.1 Cydia.
Watch iOS 10.0.3 jailbreak and Cydia download for iPhone with Taig demo video.
iOS 10.1 Cydia Download- What to Consider?
As for the facts standing iOS 10.1 jailbreak may happen in anytime. So here are some of the points you must keep in mind before head Cydia Download for iOS 10.1 latest through iOS 10.1 jailbreak.
Update through iTunes as OTA updates could cause troubles with apps like Pangu jailbreak
Prior to jailbreak, backup your complete device using iCloud or iTunes
Erase unnecessary files and make space for app installation
Temporarily turn off "Find My iPhone"
Charge your device for a sufficient power scale
---
iOS 10.1 Jailbreak and Cydia Download
Standing facts speculate Cydia Download for iOS 10.1/iOS 10.0.3 /iOS 10.0.2/iOS 10.0.1/iOS 10 soon with iOS 10.1 release. As now iOS 10.1 is out for public you will be able to download Cydia soon on Apple's latest Operating system. So stay tuned to get all genuine download links from our site.