Jailbreak iOS 10.3 and Download Cydia
How to jailbreak iOS 10.3 latest version and cydia download for iPhone and iPad?
---
Ending the long testing period, Apple recently announced the third major strike to the Apple Mobile Operating System, iOS 10.3. It took more than 6 months from the iOS 10 debut and almost taking 2 months from previous 10.2.1 deliverance. And as promised through 7 betas so far, the update home to many notable feature upgrades collectively with a lifted layer of security. So anyone can upgrade 10.3 for a different iOS experience, but can someone believe in Jailbreak iOS 10.3 and Cydia Download? The post is full of iOS 10.3 update with all around its jailbreak. So read on.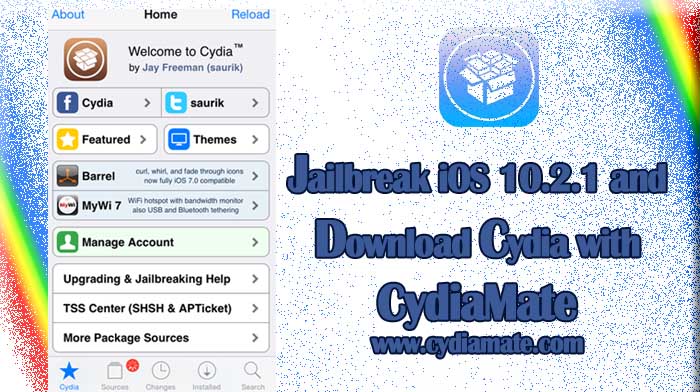 ---
Cydia Download App

---
iOS 10.3 is Official- What's New?
Apple followed a far-reaching testing era to bring 10.3 to the public. It is now available for iOS 10-compatible devices for free through Over the Air and iTunes. So backup the device and follow either one of the comfortable methods to get 10.3 experiences on your iPhone, iPad or iPod Touch. But if you download iOS 10.3 in the purpose of iOS 10.3 jailbreak in future, leave the OTA behind and take iTunes for the firmware installation. It is the best way to avoid possible errors in future jailbreak in advance starting in the firmware downloads.
The reason iOS 10.3 win a lot of consideration is its compilation of dozen of new features. In fact, 10.3 introduces new Find my Airpod feature to locate Airpods via Find My iPhone app, File system approach, designed iCloud setting and so much more and delightful to the iOS user experience. As to my time with 10.3, these are some of the notable I found interesting for all. Check them out.
Approach to Apple File System
Siri more work capabilities with SiriKit
iCloud Analytics new feature
Restored iCloud section with more enhancements
Notable CarPlay upgrading
Maps powered with hourly forecasts
New app compatibility features/settings
HomeKit with more power
Websites with reduced motion
Upgraded navigation for Mail's (Conversation View)
Settings set to disable in-app ratings and reviews of apps
Chinese and Japanese keyboards with typing enhancements and more
If you see all these features under 10.3, you might wonder why some still in need of Cydia Download for iOS 10.3? But if you get closer, you will realize why as now Cydia empowers many new apps and tweaks to work with iOS 10-compatibility which promises to double the benefit you took in the stock setting. So read and find when will you get Jailbreak iOS 10.3?
---
---
What makes you hang about Jailbreak iOS 10.3?
As we seen no jailbreak in progress above Yalu, we should thank Todesco for giving the current only opportunity to jailbreak iOS 10. But when it stops at iOS 10.2, what will happen for jailbreak fans above 10.2?
With the facts about 10.3 new, it covers almost 90% of the vulnerabilities previously found way to Download Cydia. So it includes the exploits based to Yalu jailbreak which works for iOS 10 to 10.2. So there, Yalu not promise to add support for iOS 10.3 jailbreak which is currently a bit doubt with its increased treatment of security. But as "hard" does not mean "impossible", we invite you to stay with all iOS 10.3 Cydia updates.
As we are almost confirmed iOS 10.3 is the final iOS 10 version with major changes. Here after you will hardly meet any major releases under iOS 10 rather than minor scale updates heart to security and slight improvements. So in that way, the reason to hang about jailbreak iOS 10.3 is reasonable. In fact, we could not think iOS hackers to give up work on 10.3 major chapter which is a fine path to give Cydia rights to a majority. So let us wait and see how Pangu jailbreak, team TaiG and others going to accept the new challenge.
---
Luca Warns His Jailbreak Fans
If you are a regular jailbreak fan, you must already know about Luca's departure from the jailbreak tool development. Giving Yalu jailbreak 1011, Yalu jailbreak 102 to the public Todesco has recently confirmed his farewell from tool developing with no specific explanation or clue reasoning why. However in his note of good-bye, he has left a message to jailbreakers as a reason to be prepared for the upcoming jailbreak. As to Luca, upgrading 10.3 is not wise at the moment and he asked you to stay with iOS 10.2.1 as long as possible which is more probable in getting jailbroken. So save blobs for iOS 10.2.1 if you missed Yalu download and now in waiting for another jailbreak update.
---
Should you Downgrade 10.3?
With iOS 10.3 out nearly a week, Apple may close signing windows for older firmware in anytime. So with that, you will get stopped from iOS 10.3 downgrade which will stuck you only to 10.3 until another upgrade delivered. If you worth get jailbroken, it is wise to stay with possible lowest firmware which is 10.2.1 for those who are above 10.2. So use downgrade rights when Apple allowed and save blobs to increase the chance of future jailbreak.
---
Pangu Approaches for Jailbreak iOS 10.3
As we already know, Pangu is only the jailbreak developing team with plan of iOS 10 jailbreak so far. Using the stage time at MOSEC 2016, they promised to continue Pangu jailbreak just with the right form made Pangu 9.2-9.3.3 happen. But as we lack enough information yet, we cannot confirm the deliverance of Pangu download in reference to iOS 10.3 jailbreak now in focused. But as Todesco no more in jailbreak tool updates, the whole focus is at Pangu, TaiG and other teams with a big hope. Let's hope it is again for Pangu 10.3 with a successful Cydia chapter before iOS 11 turns in.
---
iOS 11 at the Forefront
With the deliverance of 10.3, Apple has turned iOS 10.3.2. You will now find the first beta of 10.3.2 by now which is downloadable for the members of developer and public testing programs. But it is just a small update following 10.3 to address under the bugs and desirable security improvements.
While iOS 10 continue with minor updates, you will find iOS 11 in the coming months. As for the convinced facts, June Worldwide Developer Conference is reserved for the preview of iOS 11 with more changes to the operating system. So stay with all our updates.
Currently, Jailbreak iOS 10.3 a question for all which is quiet uncertain with ground facts. But as anything can happen in jailbreak, stay for more interesting updates. Subscribe us for more jailbreak and updates in Download Cydia.